You may need a CCTV system for many reasons.  Not only does it allow you to keep a watchful eye on your property and loved ones, more importantly it acts as a deterrent to deter potential intruders thinking of entering your property.  Other reasons to provide this security for your family or employees include lone working protection, equipment monitoring, number plate capture plus many more including pleasure of nature and bird watching.
Our CCTV installation service is available from a single conventional camera right up to the largest IP based internet streaming CCTV system.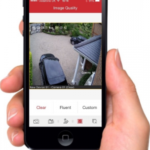 Analogue Camera
With all the high-tech cameras available today, analogue cameras continue to be viewed as a reliable and cost-effective solution. Originally CCTV used analogue cameras, coaxial cable and analogue tape recorders. These systems have been replaced by modern digital recorders and provide nearly all the benefits of a digital system, including integration with till data, remote viewing (including via mobile phones) and advanced analytics.
Networked IP Camera
Generating high definition mega-pixel images, the networked IP camera is the latest camera technology on the market.  This enables the camera to view a wider area than normal and allows the user to enlarge a specific area to view details such as car number plates. To handle the increased amount of data, the camera contains its own computer that compresses the images. The camera computer is connected to a local area network (LAN) to be accessed from another PC, or to a broadband network (WAN) for remote viewing. Video can be stored either on the camera or elsewhere on the network. As IP technology develops, prices are becoming increasingly more attractive to consumers.
Some DVRs (Digital Video Recorders) are hybrids, as they work with both analogue cameras and networked IP cameras. This can be an advantage if your site already has working analogue cameras but you would like to add one or more high definition cameras.